About Quint
Quint was born February 13, 2007 at just 24 weeks and 2 days into my pregnancy. After being diagnosed just a few weeks earlier with preeclampsia, my condition went from severe to life threatening within days. I had been in and out of the hospital during that time and really I had expected to spend the rest of the pregnancy on bed rest. I never doubted how serious my condition was, but never could I have imagined just how much my life was about to change.
After x-rays revealed severe fluid in my lungs and pulmonary edema, (fluid around the heart), I was transported to Harris Methodist of Fort Worth where a specialist was waiting to treat me. After a sonogram to determine Quint's condition, the doctor made the decision to deliver. Quint was behind in growth by 2 weeks and the placenta was loosing strength by the day. Not only does preeclampsia have a serious affect on the mother, it also starts to affect the baby. There was not one advantage to Quint staying in me for even one more day. I was at risk for seizures from the high blood pressure, my kidneys were beginning to fail, and the fluid in my lungs and around my heart was taking a toll on my breathing.
Quint was delivered by emergency c-section and weighed in at 14.59 ounces and was 11 inches long. Being so early into the pregnancy we had to make a decision of whether to have the doctors try everything they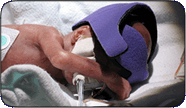 could to save him or just wrap him up and let us hold him while he passed. My husband and I are both fighters so there was no way we were not going to have the doctors fight for him. I am proud to say our son came into this world fighting; underneath all of our fear, we were so full of joy to see him. We knew there were hurdles he was going to have to leap and if he did survive his chance of being a healthy, "normal" child was very slim but he had a chance and that was what mattered. From the beginning we knew it was in God's hands.
For the next almost 48 hours, my husband bounced from my bedside to NICU to be with Quint. I only got a glimpse of Quint after delivery, since he was so critical, so I was anxious for pictures from each visit my husband had with him . Every few hours I would wake up and just stare at the precious images the camera held. It was a very helpless feeling not being able to go be with my son. Thirty six hours after delivery, I was finally stable enough to go and see him; they wheeled me in to NICU still in my hospital bed. I just could not believe how small he was and yet he was so perfect.
As bad as everything was and as much as we knew the road ahead of us was going to be long and hard, we were both just so excited to be parents again. Quint was so premature that even his skin could not handle being touched, so for only one brief moment I was allowed to reach into the incubator and touch his head. He had very little stimulation from the nurses and only when they had too was he touched or moved. While I was still in the hospital, we spent as much time at his bedside as we could. I cannot even tell you how many times we were told that for every good day he had there was going to be a bad one so we should really be prepared for it. We were so blessed to not have one single "bad" day. We never got any bad news on his daily progression.
At his first weigh in he had actually gained weight. His lungs were developed enough to show up on an x-ray, which at 24 weeks was a huge accomplishment. He had a brain scan to detect any bleeding on the brain and he had none. He also had an echocardiogram performed that came back perfect. It was one blessing after another. We had 9 awesome days.
On February 22 we got the call we had been dreading. His doctor had contacted us that morning as they did every morning to give us an update; she thought he might be showing signs of an infection. They had started Quint on my milk through a small IV; however, they had explained the risks of possible infection in his intestines. Being so premature, his intestines were just not ready for milk. We had to take a chance with the milk as we knew he could not thrive and get the nutrition he needed from strictly IV fluids alone. We had already been to the hospital once that day and were heading back when they called us. Fortunately we made it to the hospital in time to be with him at the end.
The doctor and nurses fought with all they had as we stood beside his bed and prayed. There are no words to explain what we were feeling. As a mother you pray the day never comes where you have to watch your child fight for their life. But I thank God everyday I was there with him. I have no doubt that everything was done to try and save my son.
In the end, we were thankful we had the 9 days we did. God had a plan for us and although there are days I question it, I know this is how it was supposed to be. Quint touched more lives in the short time he was here than most people will in their lifetime. He brought people into our lives who we would have never known and brought us closer to some of our friends who we had drifted from. There is a special bond I now share with so many people that I would have never had, had it not been for Quint. I see the world through a new light and I now know just how precious life is.
Our oldest daughter who turned 3 just a few weeks after Quint's death knows she has a brother in heaven with Jesus; I have never tried to shelter her from this experience. When I cry, she knows why and somehow she knows just what to say. It usually involves something funny just at the right time!! I can not help but to think it is God's way of easing my pain.
It has been 18 months since Quint's birth; on April 3, 2008 we were blessed with another daughter. Our oldest is now 4 and our days are filled with beautiful smiles and laughter from our girls.
Not a day has gone by that I have not thought about Quint and how my life has changed. I do not know if my heart will ever heal or if the ache will ever go away, but I do know that through God, I have the peace I need to go on. I have not forgotten one minute of the precious time I had with Quint and I hope through this foundation we can accomplish the plan that God has for us. Being able to help premature babies in any way we can is a sweet reminder of our beautiful son. I pray that Quint is as proud of his parents as we are of him.